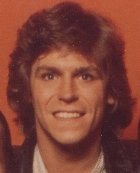 Bobby is an actor wannabe. He've played in the commercials Athlete's foot medication, Suntan lotion and Brickhauser Beer. He have also starred in For Better For Worse, Stalled, Death of a Salesman, Under the Yum-Yum Tree, Boise and Charles Darwin Tonight.

Facts about Jeff Conaway
Born on October 5th, 1950.
Jeff received 2 golden globe nominations for his role in Taxi.
He disappeared from Taxi after the 3rd season.
He recorded his first LP in 1979.
Is married with Olivia Newton-John's sister.