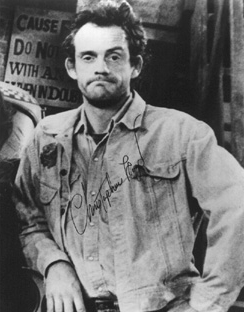 Iggy's original name was James Caldwell. He changed his last name to Ignatowski believing it was Star Child spelled backwards. In 1968 Iggy became an ordained minister for the Church of the Peaceful, and he was thrown out of the Democratic Party for stealing decorations.

Iggy decided to spend his inheritance on Mario's and named it Jim's Mario's.

Iggy bought a racehorse for $10,000 dollars and named it Gary.

When the Sunshine Cab Company had to close down temporarily, he took a job selling encyclopedias door to door. He thought he was selling vacuum cleaners.

His heroes are Saint Thomas Aquinas, Alan Alda, and his boss, Louie.

Facts about Christopher Lloyd:
Born October 22nd, 1938 in Connecticut.
Received 2 Emmy awards for Taxi.
Had the role of Doc Emmet Brown in the "Back to the Future" movies.
Guest starred in "Cheers" and "Spin City".
He is one of Jack Nicholson's best friends.