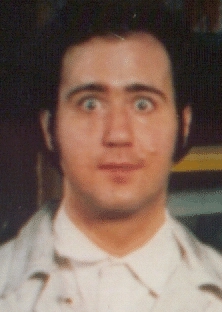 Latka is from a faraway communist country somewhere in Europe. It sounds like Latka always is speaking in tongues. Vic Ferrari is Latka's alter ego. Vic is a smooth-talking-man-about-town who speaks perfect English without a hint of an accent. Latka is now married with Simka.
Facts about Andy Kaufman:
Born in New York City on January 17, 1949.
2 Golden Globe nominations for Taxi.
Performed as a stand-up comedian and wresteled with women through his career.
Succumbed to a rare form of lung cancer. He had been sick less than one year and died at the age of 35.
R.E.M. wrote a song about him in 1992 called Man on the Moon which is on their album Automatic for the People.
Jim Carrey starres as Andy Kaufman in the movie Man on the Moon, directed by Milos Forman.